All-in-one solution
With total business security confidence
AVG CloudCare takes away the worry of managing the online security of devices, data and people across your business. Flexible and simple to use, you can manage all your clients security services from a simple, single screen dashboard and have confidence that your organizations applications and data are protected on supported devices, anytime, anywhere.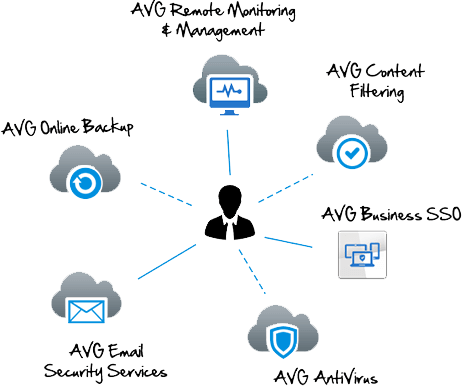 Flexible security services
Simple to use
Each of the AVG Business CloudCare services can simply be added with the click of mouse so you can easily manage the security portfolio for each of your customers and ensure their organization is protected in the way they want. And with one easy to use interface on any web browser you can easily see if anything needs your attention.

AVG AntiVirus
Award-winning antivirus protection detects, blocks, and removes all manner of viruses and malware from your PCs.

AVG Online Backup
Protect your data against hardware failure, loss and theft using highly secure, fully integrated AVG Online Backup. You can restore data from a single file to a whole directory, quickly and easily.

AVG Email Security Services
Establish more efficient, secure, and spam-free business emails. With easy to manage cloud-based solution.

AVG Content Filtering
Increase productivity with advanced, real-time content filtering and the ability to limit access to websites that drain time and money from your business.

AVG Remote IT
Our remote management tool reduces your need to make onsite IT visits, helping you save time. This service comes bundled for free!
AVG Cloud Care Anti Virus is included in all of our managed service packages