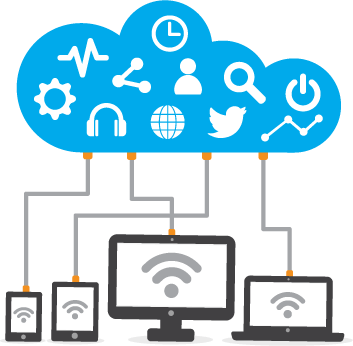 Why move to the cloud
Cloud Computing brings many benefits to business of all sizes. Providing enterprise grade infrastructure at flexible and affordable pricing models, with little to no up front costs.
The Cloud allows business to empower employees, providing greater access and functionality on across devices and platforms.
The cloud can turn massive streams of data into business insights, It transforms a mobile workforce into a connected team, helps drive productivity, and scales to meet your needs.
Main Benefits of Cloud Computing
Agile and Flexiable Services that Scale with your needs
Redundant, Secure and Reliable Services that are well maintained
Reduced Overall Costs with better service delivery
How can you move to the cloud
Your Business is unique, with a very wide variety of cloud services available, we can help you determine what will work best for you.
The Cloud encompasses many different types solutions, vendors, systems and scenarios. Rich IT Solutions can help design and determine a cloud strategy for your business, we can migrate your existing systems to the cloud, and manage and support your cloud environment.

SaaS - Software as a Service
is the Platform for end-users, it the applications and suites of applications that are delivered via the cloud
PaaS - Platform as a Service
are the tools and services that enable deploying applications and services quick and efficiently in the cloud


IaaS - Infrastructure as a Service
is the hardware and software that powers the cloud – servers, storage, networks, operating systems